RETAIL & POINT OF SALE SIGNAGE
Is your brand getting enough attention? McRobb Display will make your message explode with vibrant colourful graphics.
McRobb Display work with some of the largest national and international retailers, designer brands whose very ethos demands top quality, delivered on demand and on budget.
We provide full-service graphics support and production at every point of the project. With over 40 years experience in signage our team know every aspect of retail graphics and visual merchandising meaning your work is in safe hands through the entire process. Our in-house capabilities enable us to create and produce large-format graphics and point of sale displays that feature in a diverse range of retail shop settings. Our visual signage solutions can transform your retail space with inspirational graphics that engage with your customers and keep them in-store longer.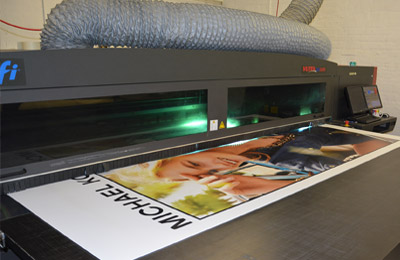 At McRobb's, we can produce, in-house, a huge range of retail graphics, signs and display elements including:
Window vinyl lettering & signage
Window decals & stickers
Window Static Cling
Digitally printed self-adhesive vinyl
Wall decals & stickers
Floor decals & stickers
Fabric-faced back-lit graphics with Kedar edge
Adhesive vinyl cut lettering
Full colour large format posters
Shelf wobblers
Shelf edge strips
Cardboard displays and dumpbins
Vinyl banners for window display
Hanging display boards and banners
Free-standing window displays and strutted showcards
3D router-cut lettering (acrylic, MDF, Foamex etc.)
Light boxes and back-lit transparencies
Freestanding cut-outs and figures
Furniture and wall wrapping

Creating stunning retail displays and meeting tight installation deadlines is a team effort. We will work closely with your shop fitter, architect or graphic designer to get the quality result you want.
---
Kerb Appeal
What draws customers in to your retail space? Kerb Appeal. Attractive, professionally designed, quality signage and window displays.
We understand the unique needs of businesses requiring purpose-built signage, whether it's for 3D logos and lettering, illuminated signs or eyecatching lightboxes, traditional signwriting or projecting signs.
These signs do a whole lot more than announce who you are – they invite customers into your store, which is the biggest hurdle in retail success.
Our signs are specially designed to be both eye catching and functional. We make sure that we adhere to our clients specification and budget, ensuring the highest levels of quality and materials. At McRobb, we think our customers deserve more. That's why we use innovative materials and state-of-the-art processes to make certain that you're getting the best architectural signage solution possible.
But that's not all. Not only do we promise to deliver great signage, we also promise to make the process as easy for you as possible.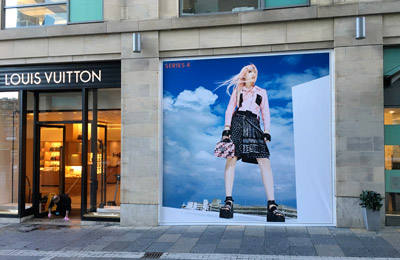 From pre-project planning to installation, our team will work with you to ensure that your signage is on-brand, on-time, and on-budget. Whether it's a single sign or a complete décor package, we're ready to embrace your challenges and create thoughtful, creative & economical solutions.
Our experience in architectural signage means that we can design, make and install a variety of signage solutions for a wide range of applications. We have extensive experience of producing and installing retail units and shop fronts in Scotland and throughout the UK. Our signs are designed to create a professional impression, as well as giving visitors and customers much needed information. Window graphics are an effective way to advertise and influence customer purchasing decisions.
---
Window Graphics
McRobb produces beautiful window graphics that help many businesses run successful advertising campaigns. Our window decals enforce branding and help increase sales.
Window decals can be printed in many sizes and in full color. These window banners can be printed on both sides and used for advertising to outside and inside audiences. We digitally print images to your precise specification onto optically clear vinyl and PET window film using the CMYK plusLC, LM colour model and the most advanced technical equipment available today. This means that you not only get the most stunning full colour images.
McRobb one-way vision range of Contravision films allows for an image to be seen from the outside only - leaving a clear internal outlook.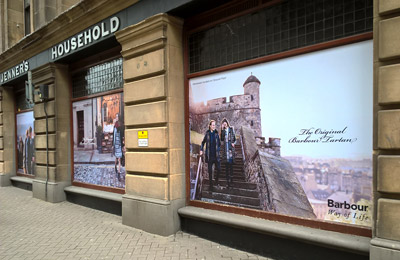 ---
Standees & Freestanding Cut-outs
Commonly used for attention grabbing point of sale displays, promotional events and product/movie launches, custom printed standees can be cut out to any size and shape.
Why not get a unique, freestanding photoboard for your party or event with head cuts-outs perhaps for added fun? Standees and cut outs can be made from a range of boards, including our recyclable eco-board. All are precisely cut to shape using eye cutting technology.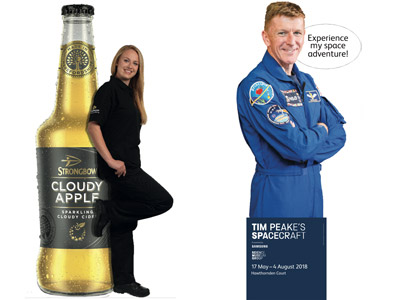 ---
Too many options? We're here to help guide you through the process, advising on size, materials, production and logistics, just contact us with your requirements.
Whatever the retail sign or display challenge you have – big or small – we will find the solution.
---
MAKE AN ENQUIRY
If you would like to make an enquiry, or have any queries regarding our retail & point of sale signage service, please do not hesitate to get in touch.

info@mcrobb.co.uk

0131 556 9633
---
FILE UPLOAD
We recommend using the Free, WeTransfer service when sending images and graphics which exceed 5Mb in file size.
---
DISPLAY CATALOGUE
You can also view a list of the items that we stock at our dedicated catalogue website.

---
SUBSCRIBE
Sign up to our newsletter for inspirational info and updates.