EVENTS SIGNAGE
Event branding is key to creating a high impact, professional and successful event. As often the first opportunity for your visitors to physically engage with your brand, a streamlined and high quality finish is a must.
McRobb offer a vast range of branding options for your event and pride ourselves on always providing first class customer service.
We can supply everything you would need from branded entrance structures, cafe barriers and way-finding signage to full stage sets, graphics, flags and banners. The quality of your graphics and branding plays a significant role in the finished look of your event.
In order to ensure that our graphics are finished to the highest possible standards we complete all graphic printing and finishing in-house. We are proud to have a dedicated and experienced graphics team who can guide and advise you on the various options available for your projects.
McRobb Display build all of our custom product displays in-house, providing a turn-key solution for your event design, print and build needs. Our experienced teams can advise you on the best materials, media and print options for your specific event, ensuring a perfect and flawless finish every time.
---
POP UP BANNERS
Our custom printed pop up event banners (also known as golf, oval or bean banners), are a great addition to any event or product launch, indoors or out.
Pop up event banners are quick and easy to erect, constructed with a steel frame, and require no tools. They simply pop up with a slight twist of the wrist to create an instant display, and flat pack down into a small, bespoke carry bag making them extremely transportable and easy to store.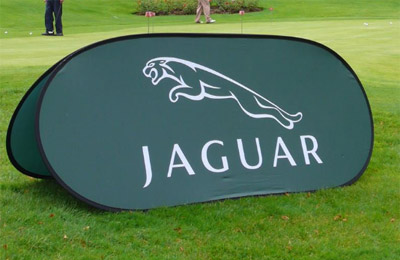 ---
CAFE BARRIERS
Printed cafe barriers or cafe banners are a terrific addition to outdoor cafe and restaurant seating areas. They are DDA compliant (see description below) and available in a range of sizes and materials. These multi-functional units are also perfect for outdoor or indoor events, roadshows, product launches and exhibitions. They offer a practical method of showing off your brand and are extremely easy to configure.
Branded café barriers are also an excellent way to avoid planning consent issues and promote your brand to passers by. The hardware is made from chrome plated heavy-weight stainless steel, we have a variety of widths and material options include PVC, canvas, fabric and mesh. printed single and double-sided printing is also an option.
When used with both top and bottom crossbars, our cafe barriers and screens are DDA compliant (Disability and the Equality Act 2010), the bottom rail allowing audible tap and resistance for the visually impaired. The system uses a fixed disc at the bottom to ensure the banner hangs in the correct position and acts as an anchor for the bottom rail without compromising the look and finish of the banner.
For events, the most cost effective way of using cafe barriers is to only order the top bar and fix the banner with bungees attached to the fixed disks at the bottom. This method is not recommended where there is heavy traffic, in pavement cafes or restaurant seating areas, as these usually have to comply with DDA regulations.
Our café barriers and café screens are available for sale or to hire and we also offer a replacement graphic service. Please call our sales team on 0131 556 9633 for more information.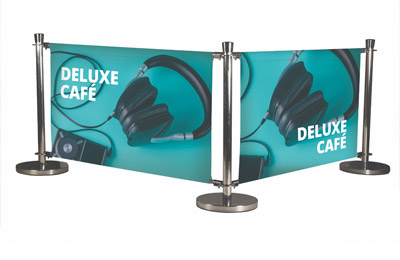 ---
BANNERS
McRobb Display produces digitally printed large format banners to all sizes and specifications, including PVC banner (frontlit, single-sided), PVC blockout (double-sided), PVC mesh and PVC backlit. All production and finishing is completed by our team of experts in-house, ensuring best quality, unrivalled service and fast turnaround times.
They are quick and easy to hang, ideal for short-term applications, yet are manufactured to last for years outdoors making them suitable as a cost effective alternative to traditional signage.
Hanging banners, vertical or horizontal, can be printed single or double-sided on to a range of materials. For double-sided applications we generally recommend double-sided block-out PVC, to avoid any show-through, UV printed on both sides for maximum impact. Various fabrics can also be used with direct water-based dye sublimation or UV printing, making them a sustainable and eco-friendly alternative.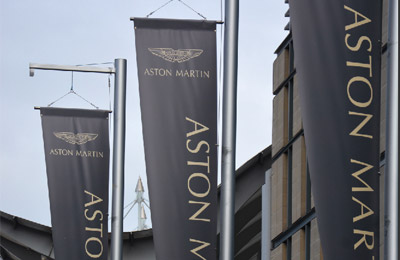 ---
HERAS FENCE BRANDING
Heras fence banner branding (also known as fence scrim, event fencing or scrim banners) has a multitude of applications. It can be used to connect different areas and add cohesion to the branding programme.
It can also be used to hide areas from view, for example construction sites or roadworks, helping to promote a brand or sponsor information or engage with your target audience. For long term or exposed areas, printed PVC mesh banners with reinforced hems and eyelets are recommended.
McRobb Display's heras fence printed scrim come as standard in 10.5m lengths, (enough to cover 3no. heras fence sections) however bespoke sizes are also available. Produced on AirMesh fabric, they are more eco-friendly than PVC and can still be washed and re-used. The standard height of the scrim is 2m.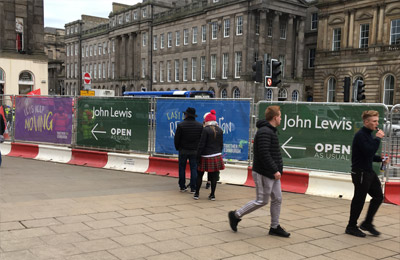 ---
CROWD CONTROL BARRIERS
Highly visible, cost effective and easy to set up, these are a great addition for branding solutions for festivals, sports events, concerts, processions and many other public events. Crowd control banners can be used for simple logo branding or full colour applications for more complex designs and messages.
We have three standard options available; double-sided stretch barrier sleeves which are double sided and slip over individual barriers, finished lengths with reinforced edges for multiple use and unfinished lengths for single use. Available up to 1.2m high by any length as standard, we can also produce crowd control banners to any size, please contact us on 0131 556 9633 or email info@mcrobb.co.uk.
Standard crowd control barriers are generally 2150mm x 900mm or 2350mm x 900mm, but please check as they can vary. If your crowd control barrier is not one of the standard sizes as shown below, please supply us with the relevant dimensions or contact us to discuss your requirements.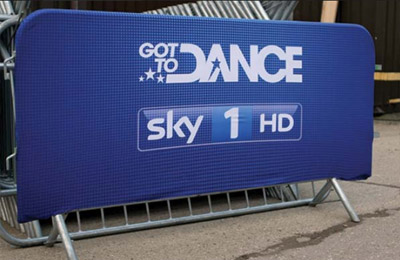 ---
EVENT SIGNAGE
McRobb Display can produce cost effective temporary signage printed directly onto full sheets of fluted polypropylene (Correx) or Foamex. The sheets are then cut into the individual signs. Fixing holes and cable ties or screws can also be supplied.
Promotional toblerone event signs can also be manufactured. They are digitally printed directly onto fluted Correx board with the option of having matching printed or non printed end caps.
Made from a single sheet the toblerone is folded and secured with separate correx inserts to form the 'A' frame shape, these signs can be flat packed to ease transportation and storage.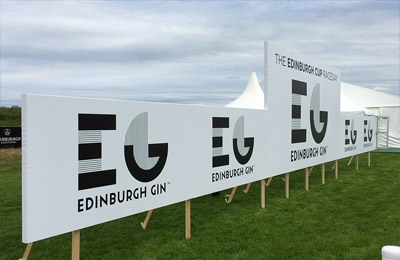 ---
A FRAMES
Portable A frames are available to buy or hire from McRobb Signs. These timber based structures stand 2m tall and 1m wide. They are double sided and designed to be sturdy enough for outdoor use. Additional weights can be incorporated if extreme weather conditions are anticipated.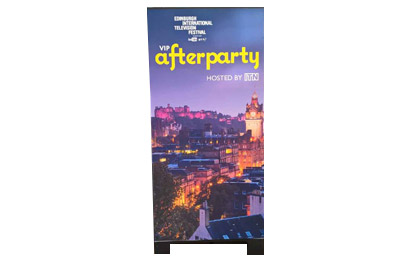 ---
LAMPPOST BANNERS
Applying international experience with detailed local knowledge, our dynamic Lamppost Banners are frequently used by most authorities, and are unrivalled in their ability to effectively publicise council messages and events.
McRobb Display can install Lighting Column Banners in specific locations and on columns of your choice, enabling you to be highly targeted about the people you reach out to and the messages you choose to promote.
Our double sided banners are printed at high definition onto heavy duty PVC, Our high quality tensioned bar system means we can guarantee your banner campaigns for up to 12 months where we have produced and installed the banners ourselves.
Located in and around major event venues, high footfall areas, high street and lining main arterial routes, our roadside media sites allow brands, event organisers and local authorities to achieve unrivalled proximity to their target market, boosting brand awareness and results.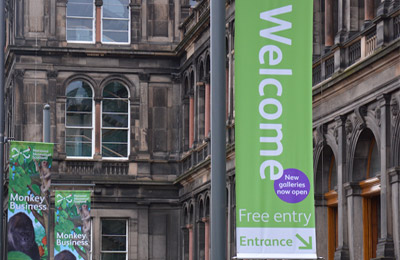 ---
STAGE SETS & BACKDROPS
McRobb Display's continued investment in large format digital printing ideally places us to produce stage sets and backdrops. Our manufacturing facility also includes CNC routing and joinery departments which enables us to build the stage flats and bespoke sets.
Installation and de-rigging is also handled in-house by our experienced team. We have stage sets and backdrops available for hire so please give our salesteam a call on 0131 556 9633 to discuss your event or email us at info@mcrobb.co.uk.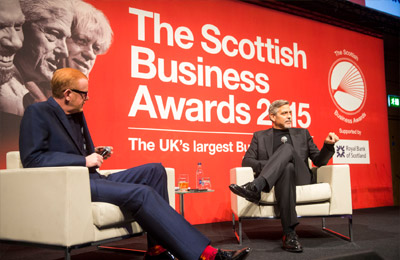 ---
STEP & REPEAT LOGO BACKDROPS
McRobb Display offers a wide variety of step and repeat logo backdrops. Reinforce your brand without breaking the bank.
Step and repeat logo backdrops, also known as media or press backdrops, offer an affordable, eye-catching way to promote your company, organization, school, or team during special events, press conferences, and photo ops. They get your name and logo featured in the backgrounds of images that are sure to be seen everywhere from TV to newspapers to social media.
Step and repeat logo backdrops are also an easy way enhance your company's credibility and bring a wow factor to any event.
Work your magic at tradeshows and events. Step and repeat logo backdrops aren't just for PR events — they also make for an impressive backdrop for your display at tradeshows and conventions. An eye-catching media backdrop is great way to set your display apart in a sea of competition. Set up your backdrop and look more professional, attract more people to your space, and connect with new clients.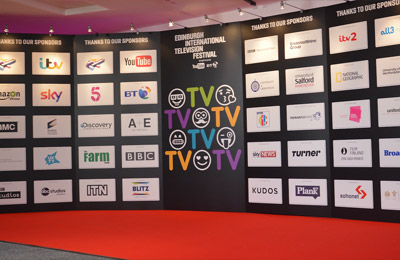 Stand out in a crowd. Our experienced designers can help you create an attention-grabbing step and repeat logo backdrop that's sure to get your company noticed.
---