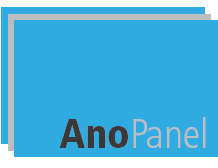 AnoPanel is a totally bespoke service offering digital reproduction of any digital image onto an aluminium surface using sublimation technology. The process utilises a high definition decorative powder coating of aluminium with subsequent print decoration using a sublimation process.
The key feature of the 'sublimation' technology is that this is not just purely a surface finish but is 'through the depth' of the coating, to a depth of 80 micron creating a highly durable and 'white line' scratch resistant product.
AnoPanel lends itself well to the production of woodgrain type products and the polyurethane coating ensures that if the image takes a light scuff or scratch it will not be visible as a white line due to depth of penetration and inks. Numerous bespoke products can be achieved replicating; stone, marble, granite or alternatively a bespoke custom digital image.
Suitable for applications onto pre-formed aluminium and galvanised steel sheet profiles/ extrusions, the coating will remain in good condition and free from failure for a period of 10 years from coating.
Supported by a 10 year SUBLICOAT warranty, the AnoPanel sublimation fully meets the provisions of BS6496 (1984) and BS6497 (1984) including subsequent revisions.
Easy clean – Anti-vandal/graffiti resistant properties
Anti-bacterial option
Outstanding print quality
Totally bespoke products
Scratch resistant - no white lines
10 year exterior warranty

MAKE AN ENQUIRY
If you would like to make an enquiry, or have any queries regarding our vandal proof signs service, please do not hesitate to get in touch.

info@mcrobb.co.uk

0131 556 9633
---
FILE UPLOAD
We recommend using the Free, WeTransfer service when sending images and graphics which exceed 5Mb in file size.
---
SUBSCRIBE
Sign up to our newsletter for inspirational info and updates.
---
LECTERN MOUNTING SYSTEM
Ask about our lectern mounting system by clicking on the lectern below.