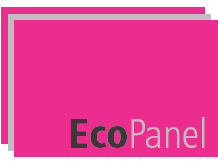 EcoPanel is a 100% fully recyclable product especially suited for exterior architectural heritage interpretative panels or way finding markers and, with environmental accreditations, it scores significantly over Aluminium Composite products.
The system uses a high pressure lamination process and thermo-hardening resin to provide outstanding full-colour print quality and long-term resistance to UV and exterior weather conditions.
The customised print image is set within the thermo-hardened resin of the ecoDura panel preventing the further application of paint or a 'new customisation'. EcoPanel high pressure laminate interpretive panels can be supplied printed both sides and are graffiti resistant enabling cleaning of the custom surface with many products such as water, white spirits, alcohol or acetone.
EcoPanel is supported with a 10 year exterior warranty and certifications to; BSEN 438 Parts 1 & 2, NF F31 112 // IMO Res. A. 653 (16) NV65 Wind Tested // NFP92 501/510-M1 & M2 // EN ISO 4892 Parts 1 & 2 Accelerated Ageing
Easy clean – Anti-vandal/graffiti resistant properties
Anti-bacterial option
Outstanding print quality
Moisture resistant
Fully recyclable – scores significantly over ACM
Two sided print option
10 year exterior warranty
Contour cutting is possible with the EcoPanel system as are split batons and threaded inserts for fixing:
M5 for 10 mm thickness
M6 for 13 mm thickness

MAKE AN ENQUIRY
If you would like to make an enquiry, or have any queries regarding our vandal proof signs service, please do not hesitate to get in touch.

info@mcrobb.co.uk

0131 556 9633
---
FILE UPLOAD
We recommend using the Free, WeTransfer service when sending images and graphics which exceed 5Mb in file size.
---
SUBSCRIBE
Sign up to our newsletter for inspirational info and updates.
---
LECTERN MOUNTING SYSTEM
Ask about our lectern mounting system by clicking on the lectern below.