EXHIBITIONS SIGNAGE
With more than forty years' experience of the exhibitions industry behind us we've built a solid reputation based upon the quality of our products and services, our attention to detail and for the value for money we offer.
Since 1971 McRobb Display have been designing, manufacturing and installing of custom built exhibition stands as well as providing a wide choice of modular exhibition systems to fit all projects and budgets. No matter what event or industry, we can tailor the right concept to suit your company, your product and your budget. If you are a first time exhibitor or a seasoned professional, we have the expertise to make your exhibition the best yet.
We are committed to providing our customers the best possible exhibition stand solutions and the most complete exhibition support services at the right price, and by offering a complete "turn-key" exhibition solution we can save you the inconvenience and expense of sourcing several different suppliers for your exhibition requirements.
We offer a complete in-house service throughout the exhibition process. From creative and innovative stand design, to expert project management, manufacture, graphic production, installation, storage and logistics, we successfully manage to deliver solutions to a unique standard above other exhibition contractors.
Our exhibition services include:
Exhibition stand design
Exhibition stand manufacture
Exhibition stand hire
Exhibition stand storage
Exhibition stand logistics
Modular display equipment
Portable display equipment
Custom built display stands
Exhibition graphics
Graphic design
Outdoor exhibition stands & displays
Conference sets
Step & Repeat backdrops
Feather Flags & Banners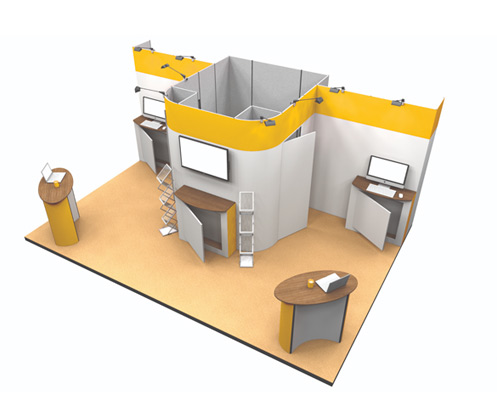 If you'd like to find out more about our comprehensive exhibition support services or would like a free and competitive no-obligation quote please call McRobb Display now on 0131 556 9633.
---
STATIC EXHIBITIONS SIGNAGE
Creating the perfect visual impact is a key component of the visitor experience and unique to each museum and heritage institution. Drawing on our years of industry experience and graphic display skills, McRobb Display produces engaging, innovative and bespoke museum graphics, heritage displays and signage so that your visitors are left with a lasting impression and inspiring experience.
From project management, content and artworking, through to graphic display print production and manufacture, our team will work with you to meet your exact display and signage requirements. As part of our turnkey graphic display service we also offer careful and expert installation of museum graphic displays and signage.
We regularly work with historic and protected heritage buildings, which is why all of our installations are carried out by our dedicated and experienced in-house team.
In addition, we are specialists in supplying external signage for museums, heritage centers and visitor attractions. Our range signage products include materials such as timber, steel, glass and aluminium. We also have a vandal and weather resistant range!
If you're looking for a bespoke graphic, signage or display for your museum and heritage site, give us a call and speak to one of our experts.
Our in-house capability is considerable, as is our continual investment in the highest quality production machinery available allowing us to create only the best large format graphics and exhibits.
We blend cutting edge digital UV direct-to-media printing techniques, CNC print finishing with cut vinyl production and screen printing. It is this delicate blend of the old and the new, the established and the emerging, that leads to our unique production capabilities and to truly innovative solutions.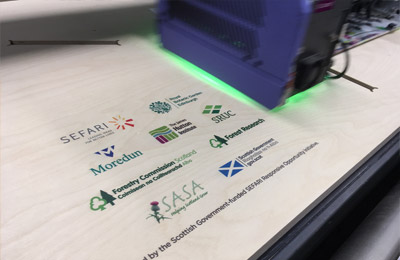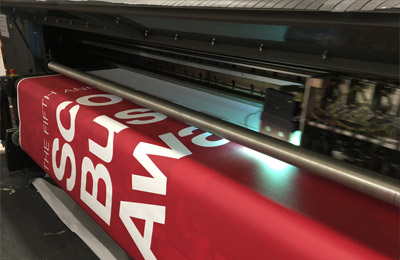 ---
TRADESHOW STANDS, CONFERENCES & SEMINARS
We offer a complete in-house service throughout the exhibition process. From creative and innovative stand design, to expert project management, manufacture, graphic production, installation, storage and logistics, we successfully manage to deliver solutions to a unique standard above other exhibition contractors.
CUSTOM BUILT
Custom built exhibition stands are built using a combination of traditional methods and materials alongside modern technology such LED lighting and interactive audio visual equipment. Often considered a more expensive option, Custom built exhibition stands are often the first choice when considering a good quality exhibition system.
By nature, these stands are a more expensive option when compared to modular or portable systems. To overcome this we can create your next exhibition stand so that it can be re-used for many years.
The main benefits of choosing a bespoke exhibition stand is presence and flexibility of design. A well designed, well-built and beautifully finished exhibition stand will stand out amongst the rows of shell schemes and bland shell scheme stands. Unlike modular exhibition stands, custom built exhibition stands are not restricted by the limitations of fixed and uniform components with a limited range of possibilities, traditional methods and materials allow for the most complex and exciting structures to be created limited only by the imagination, the laws of physics and, of course, budget. Our project managers will take a full exhibition stand brief and work with you and our in-house designers to create the perfect stand to completely fulfil your needs.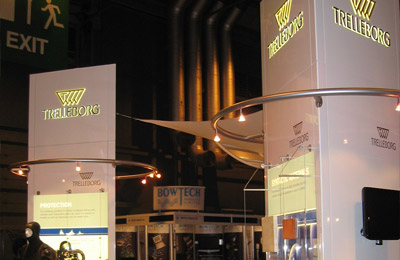 Itemised costing will be gathered alongside the design process to ensure that budget constraints are adhered to. Using our in-house production and fabrication facilities our team will then produce your stand to the highest possible standard whilst your project manager orders items such as the electrical supply, carpet fitting, audio-visual equipment and any other element required for your stand.
Once the stand is built, a team of experienced installers, at least one or more of whom will have been involved in the manufacture of your stand, will carefully and efficiently erect your stand and subsequently dismantle your stand carefully packing it away ready for storage for future use if required.
---
MODULAR STANDS
Modular exhibition stands usually consist of a variety of standard sized interlocking aluminium components which can be installed and dismantled with a minimum amount of tools, labour and cost.
These stands can be easily reconfigured to fit within an existing shell scheme or space, only without the need to adapt any of the individual parts. Once the display has been dismantled it can then be packed away in transportable storage containers or durable bags until the next event.
A combination of aluminium extrusions are configured to accept either solid, Foamex, graphic panels or tensioned fabric graphics to create a seamless structure. McRobb Display offer our clients a free 3D design service to allow you to fully understand and get the 'feel' of your stand from a 360 degree perspective.
Our T3 range of modular displays, manufactured in the UK, are among the most innovative, easy to build, compact and flexible systems in the World. With no tools required or levers to push, no other system can complete on speed of build or versatility. Our T3 range has been designed to be adaptable to a wide variety of display environments: exhibition stands, point of sale, conference sets, mobile bars, counters, lightboxes, photobooths and suspended banners and structures. The possibilities are endless.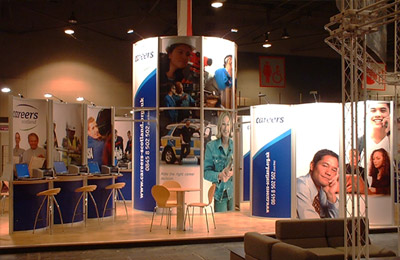 All T3 systems are completely interchangeable, re-configurable and can be used time and time again. Browse through our T3 Systems Brochure for more information.
---
PORTABLE DISPLAYS
McRobb Display carry a huge range of portable display and exhibition systems.
Our range of Roller banners, Pop-up stands, Fabric displays, Folding panel kits and accessories will help you convey a professional image quickly and cost effectively. Transport logistics, ease of use and budget constraints can all be addressed using a mix of UK made hardware graphic production.
---
BANNERSTANDS
Bannerstands, Pop-up banners, roller banners; There are many models to choose from. Size, indoor/outdoor, single sided/ double sided, tensioned, changeable, style, budget… the options are huge so please take time to look through the various models and give us a call with any questions.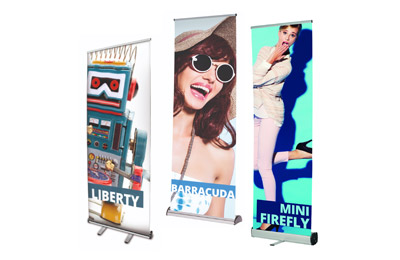 ---
FLAGS
The constant movement of flags has great visual impact and a gravitational pull. We have a range of feather flags, rectangular flags, quill flags and teardrop flags with various base options that can be situated on hard or soft ground, indoor or outdoor.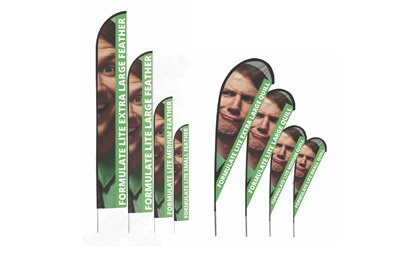 ---
BANNERS
McRobb Display special in external and internal banners. Printed in high definition, our banners can be suspended from lighting trusses or supported at ground level in specially designed banner frames. These can be printed single or double sided. We also produce tensioned fabric banners with a kedar, silicone edging for easy installation into an extruded aluminium frame.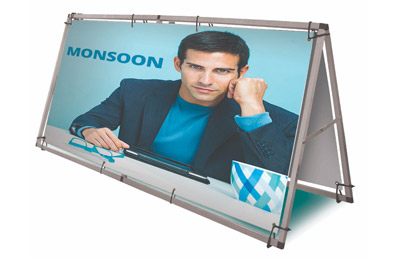 ---
POP-UPS & HOP-UPS
Pop-up systems have been exceedingly popular over the last decade. They are quick and easy ways to provide backdrops, exhibition stands and displays.
Traditional Pop-Up display systems have their place although we find that, unless you are experienced with erecting them then it can be difficult to get the individual magnetic panels sitting properly. Therefore, we recommend that clients opt for each a Hop-Up system, whereby the graphic is produced in one section and is already attached to the frame, or a Formulate backdrop where a 'fabric sock' is slid over the support frame. Both these options are much easier to assemble and, in our opinion, look more professional.
Each of these systems come with replaceable graphics, bags and cases. Lighting and accessories are also available.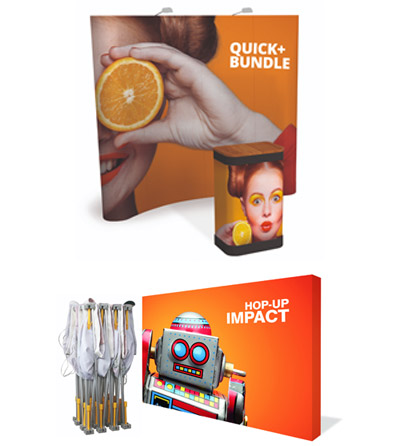 ---
FORMULATE FABRIC DISPLAYS
If you're looking to stand out in a crowd and be noticed, our Formulate products offer an impactful solution in helping you to keep ahead of the competition.
With a large range of standard structures there is plenty to choose from to empower your brand. Made from strong, yet lightweight tubular aluminium and dressed with a tension fabric graphic, Formulate offers an elegant and engaging portable display solution.
Combining form with fabric, these re-usable, easy to construct products can be mix-and-matched to create your ideal display or exhibit allowing you to "form it your way".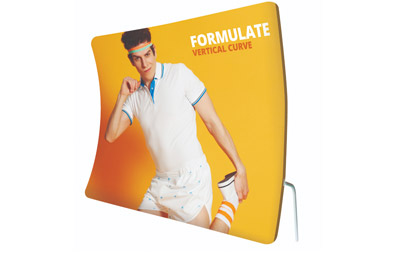 It doesn't stop there - the range also includes custom designed accessories including shelving, lighting and literature holders. Each structure is manufactured from lightweight,yet strong, aluminium tubing to form a widerange of products available in various widths and configurations. From impressive retail displays through to exhibition and hanging structures, a functional and easy to use product range is available to select from.
Over the years McRobb Display have invested heavily in specialist printing and finishing technology to create the best looking and quality finish to each Formulate display product.
We're so confident of the quality, Formulate hardware comes with a five-year guarantee for your peace of mind. As Formulate is all about the fabric, using high quality, high stretch media we can create impressive displays for your needs.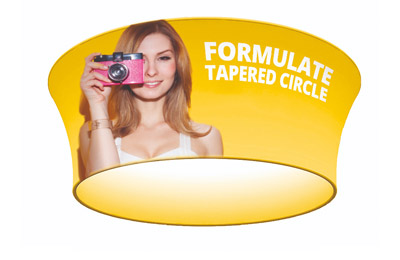 Browse through our Formulate Catalogue for more information and to see the full standard range. If you can't see what you're looking for, ask us about our custom made solutions which harmonise with any space.
---
At McRobb Display, we know how important brand impact and ease of use is when looking for a portable display solution. It's why each of our connecting frame sections are clearly labelled with matching symbols making each product easy to assemble.
Attaching the graphics is also simple. Each graphic effortlessly slides over the framework and is zipped closed. There is no need to worry about accidentally creasing the graphics as the elasticity within the fabric makes them extremely durable and long-lasting – giving a great return on your investment.
Our high quality fabric graphics are easy to care for – after use, simply zip closed, fold up and place into the bag for future use. As each fabric graphic is machine washable at 30 degrees centigrade, it means your chosen graphic is re-usable and will (with care) look as good as new each time.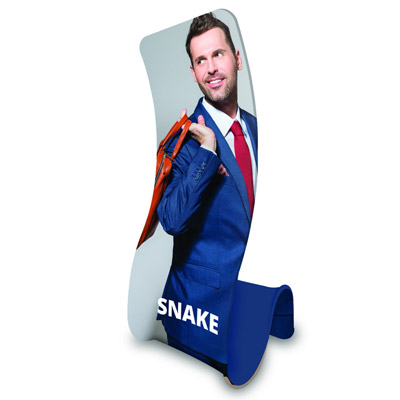 Whilst quick and easy to put up, there's no compromise on style still delivering impact with its eye-catching shape. The Formulate range offers an impactful, fast andeasy to use solution - helping you stand out from the crowd and keep ahead of your competition.
---